Jason Faller, MD
Rheumatology and Internal Medicine
Concierge Practice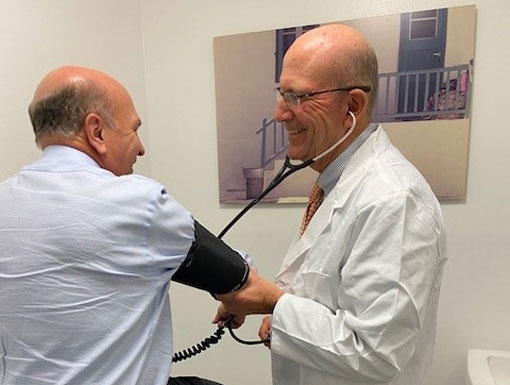 For more information on my rheumatology and internal medicine concierge practice, please call my Membership Information Line at (646) 386-8008.
My innovative membership/concierge medical practice is located at Manhattan's Columbus Circle. We combine top clinical expertise, a wellness focus, and availability to 21st-century technologies to offer you a better healthcare experience. What is concierge
medicine?
In a concierge, or membership, medicine practice, the doctor makes a commitment to limit the number of patients to ensure adequate time and availability for each patient, and to provide an enhanced level of care.
Extended, unrushed visits enable physicians to spend meaningful time with patients, build relationships, and provide more comprehensive, proactive care than in traditional practices. To make this possible, the patient pays an annual fee.
Dr. Faller has become a trusted "adviser" to both my wife and I. He explains medical procedures in simple understandable terms … My wife and I feel very fortunate to call Dr. Faller "our doctor."
Dr. Faller is a very kind and approachable Doctor. He actually listens to his patients concerns and needs and is always present during our visits. It's hard to find a doctor like him. He has done everything he can to treat me and I am very grateful. His staff have also been very kind as well.
This is a very smart, compassionate Doctor who takes time to know and understand his patient. I couldn't recommend more highly.
24/7
Communications
After hours or on weekends and holidays, for urgent issues you can reach me by personal cell phone or email.
Little or No
Wait time
Office visits will start promptly, allowing more time to thoroughly address all of you questions and concerns for each visit.
Longer, Unhurried
Appointments
Comprehensive Annual Health Assessment appointments will be schedule for approximately 60 minutes and all other appointments will be scheduled for approximately 30 minutes.
Strong Focus on Preventive
Medicine and Wellness
As part of my commitment to your long-term health and wellness, my philosophy is to educate you about your personal medical needs and risks.
Real People to
Take your Calls
When you call my office there is no recording to navigate…only real people to take your call, with a real concern for your health and well-being.
Same-Day
Appointments
You will be seen that day or within 24 hours for acute care visits.